Safe Boating Instruction in the Kawarthas Since 1959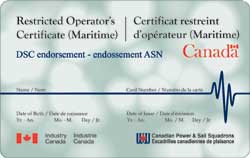 VHF/Marine Radio Operator's Certificate/DSC
This course will be held April 28 and May 5, 2018 (2 consecutive Saturdays) from 9:00 a.m. until approximately 2:00 p.m. on both days. Cost is $100/person for CPS Members - $120/person for non-members. For more information please Jim Lee or call him at 705-652-1206.
You can also register online
The Maritime Radio course teaches emergency radio procedures and everyday operating techniques. Learn all about the uses of marine radios, choice of frequencies, operation, phonetic alphabet, procedural words and phrases, as well as Digital Selective Calling and the Global Maritime Distress and Safety System, (DSC/GMDSS). All mariners, including recreational boaters, will want to take advantage of the many features and capabilities of this innovative form "automatic" radio. Secure your lifeline. Be sure that you and your family take the Maritime Radio course.
This complete package with CD and the new Digital Selective Calling will prepare you for the Restricted Operator Certificate (Maritime) with DSC Endorsement exam. To operate a maritime radio, you need the certificate. It's the law!
---

Boating 2 – Beyond the Basics
This course is scheduled to begin on Monday September 10, 2018, running for six weeks.
Location: Adam Scott Collegiate – 175 Langton Street, Peterborough
Price: CPS-ECP Members - $145, Non-Members - $165
Register: find the course and click on Register
NOTE: Price includes one year free membership with the Peterborough Power and Sail Squadron! Have access to our local website, be the first to hear about social events, local news about the Trent-Severn Waterway, and upcoming education opportunities, and be part of a great bunch of people who enjoy boating!
Tell your friends, family, and neighbours to enroll now and be ready for a safe boating season this summer!
The Pleasure Craft Operator's Card (PCOC) makes sure you have immediate navigation and safety skills but it's just the beginning of what you should know when you get on a boat. In the second of our Boating Series, you are introduced to the art of navigation, anchoring, ropes, lines and knots, collision regulations, environmental responsibilities and electrical hazards – not to mention what to expect when the boat is moving under power and responsibilities of the skipper, both before setting out and when under way. This course also has a number of optional topics that will be taught depending on your interests, such as towing, trailering, locking, strip charts, etc. The PCOC will get you on the water... let us get you safely home!
---
To enquire about any courses our Educational Officer for more information

Also please check our Online Registration page regularly as we will post information on any new courses that we will be offering.